PUBLICATIONS

'MOOJAG and the LOST MEMORIES'




Pre-ORDER now

The award-winning neurodivergent, cli-fi adventure, standalone sequel to the award-winning 'Moojag and the Auticode Secret'.

When Nema returns to Gajoomdom, she discovers three forgetful grannies who have totally lost track of time. If she and Moojag can't help them remember, everyone's memories are in danger. But turns out not everyone is exactly who they thought they were. Who will they rescue? Will they rescue them in time?

The Lost Memories, inspired by the author's gran, and living with dementia and disability during the pandemic, shows us the impact of loss and the power of memory and technology when used for good.
A multigenerational story for readers 9yrs and over.

REVIEWS

"Vivid, vibrant, compelling, laugh out loud… An imaginative futuristic adventure that draws you in and keeps you hooked. But it's the characters who win your heart."
READERS' FAVORITE, 5 star review.

"A really great book …captivating adventure. The world is really dense with really fun and whimsical pieces of technology, but still there is a real sense of peril that runs through the story. I have never been so scared of a marshmallow chamber! I love how it pushes back on the idea of older people being useless, not by erasing the things they may find difficult, but by highlighting their strengths …the things they still remember end up being as important as the things they have forgotten."
Alex Falase-Koya - Award-winning author, MARV / BREAKFAST CLUB ADVENTURES

"Fantastical fun with a deep message about the value of human memories. I loved that the three grannies took centre stage with so much dynamism, humour and wisdom whilst taking memory loss head on. Go grannies!"
PATIENCE AGBABI - Award-winning poet and author, INFINITE

"A thrilling adventure with a memorable cast of characters!"
BEN DAVIS - Award-winning author, LENNY LEMMON

"A brilliant story... Positive autism representation with loads of fantastic ideas that take you to another world!"
SEAN FLETCHER - Journalist / TV presenter

"A fantastic adventure with an important message and authentic and exciting neurodivergent characters. I loved it!"
DANIEL AUBREY - Author, DARK ISLAND

'GOALKEEPER: Memoir of Poet Peter Street (Games, Secrets, Epilepsy & Love)'

RUBERY BOOK AWARD SHORTLISTEE 2023

One 'alone, but not lonely' boy's triumph over adversity, motivated by his dream of becoming a professional footballer and a longing for truth and connection.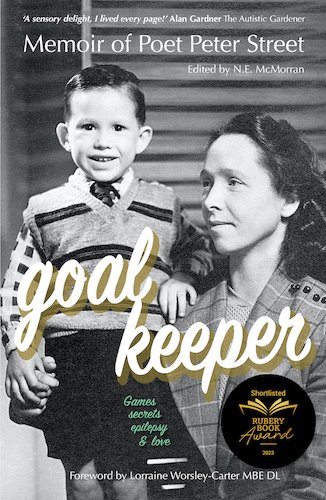 Street's childhood memoir is a sensitive and honest portrayal, through a poetic autistic lens, of growing up with undiagnosed autism and epilepsy in an unconventional family during the 1950s and 60s. A unique and vivid social document of the period, highlighting much of the discrimination still faced by minority and disabled communities today.

REVIEWS

'Beautiful insight into growing up in a challenging world. A sensory delight, I lived every page!'
Alan Gardner, Channel 4's 'The Autistic Gardener'

'The most astonishing life story of anyone I have ever interviewed.'
John Harris, The Guardian

'Long after putting away his football kit, Peter is ever the Goalkeeper of his dreams. A natural storyteller'
Epilepsy Society

'Beautifully written and evocative ...a vivid and moving book that will transport you back in time.'
National Autistic Society UK

'At turns touching, funny and tear-jerking...A revealing read.'
Lancashire Life Magazine

'This is one man who certainly knows how to tell a story. It's riveting... An uplifting and invigorating tale.'
Salford City Radio

'You will laugh out loud, other times your eyes may tear due to the power of Peter's heartfelt words.'
Lulu deCarron, Author

'Few memoirs go into beautiful prose detail about learning disability from personal experience... Peter shares his life and beautiful soul.'
Mari Stein, Author

'Poignant yet heart warming...An exceptional recollection of a childhood lived.'
Lisa Ryan, Equality Officer, GMB Union

'An often startling memory of things felt in a rather frightening, yet fascinating past.'
Alan Brownjohn, Author/Poet

'These pages are alive with an empathy that drives an unforgettable way of storytelling.'
Dr James McGrath, Author, Naming Adult Autism



'MOOJAG and the AUTICODE SECRET'

NAUTILUS BOOK AWARD WINNER 2021

A neurodivergent dystopian cli-fi mystery by N.E. McMorran for readers 10+, especially neurodivergent individuals and their families, is available in paperback, ebook, and full ND cast audiobook!
Endorsements and 5* reviews from Patience Agbabi, Steve Silbermann, Dr Judith Gould, Chris Raschka, James Sinclair, Lyric Holmans(Neurodivergent Rebel), Agonie Autie, Temple Grandin, Week Junior, Your Autism(NAS) and others... To read them, and for more info, visit the website: www.moojag.com



If Nema can't uncover a lost boy's true identity in time they may never escape the sticky world he designed...

A neurodivergent team (autistic, dyslexic, adhd, downsyndrome, parents of ND children) voiced the AUDIOBOOK, adapted and directed by the author, recorded and produced in collaboration with 'The Monostery', in London July 2020:

Ria Lina, Indica Watson, Becky Davis, Sam Palmer, Simon Marchant, Tracy Foster, Harry Thompson, David Watson, Errol Kerr, Ciarán McGlynn, Tilley Milburn, Jack Monaghan, Emily Burke, Catti Goodbody, Duckie Moriarty, Jaz Bigden, Jordan Esau, Mohamed Sillah.

Subscribe now for release and event news, special offers and chance to win a signed copy.

Support future Spondylux Press publications by ordering direct from us via our Spondylux Press shop on Amazon: Click here for links

We are open to submissions of polished manuscripts (submissions must have undergone at least one professional edit) and welcome book proposals by ND creatives. We also offer free support and low-cost sensitivity/editing services to ND writers.